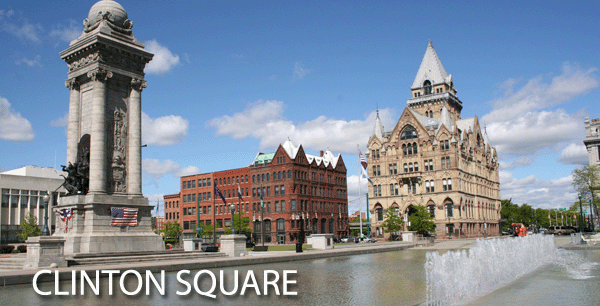 The Firm
Baldwin, Sutphen & Frateschi, PLLC is a boutique law firm
concentrating its practice on the financial and personal needs of our
individual, business and municipal clients, including real estate
matters, succession and retirement planning, corporate law, taxation, entity planning, municipal law, and zoning matters. We are experienced in our fields of expertise and our goal is to bring highly personalized, yet sophisticated legal service to our clients.
Landmark Service
Our offices are in historic Clinton Square in the landmark building now known as One Clinton Square. The building was designed by Architect Archimedes Russell in 1885. The attorneys at Baldwin, Sutphen & Frateschi, PLLC have become known in the community for several decades of landmark service that we provide for our clients, characterized by the emphasis upon exemplary service and expertise.
Directions
We are just blocks from Routes 81 and 690, on the corner of North Salina and James Streets at the cross section of downtown Syracuse. For your convenience, there is a parking lot, directly behind our building . Our facilities are handicapped accessible with specified parking and elevators to our office.
History and Philosophy
Baldwin Sutphen & Frateschi, PLLC was formed from the merger of Baldwin & Sutphen, LLP and the Frateschi Law Firm in 2018. In 1996, Bob Baldwin and Jamie Sutphen, after practicing law extensively in the Central New York area in both larger and smaller firms founded Baldwin & Sutphen, LLP. Bob and Jamie envisioned a law practice where the delivery of expert advice in a personalized setting would create a comfortable and productive atmosphere for both clients and attorneys. Charles "Casey" Sprock joined the firm in 2000 and became the firm's third partner in 2003. Bill Drexler brought his years of legal experience to the firm in 2005. In 2018, the opportunity for not only growth, but the merger of talents, experience and philosophy presented itself when Timothy Frateschi, Joseph Frateschi and John Brunetti joined the firm. Baldwin, Sutphen & Frateschi PLLC prides itself on its service to clients with competency and compassion. We work diligently to insure that our clients receive the very best of professional and personal attention. When legal matters arise, whether simple or complex, we know that it can be a confusing and stressful time for clients. At Baldwin, Sutphen & Frateschi, PLLC, we are gratified that you have chosen us to help guide you through the legal process. Our attorneys and experienced staff work to keep you confident that you are supported and that your matter is handled with attention, care and expertise.